Color, in a big white. Give me something more special than that? The white winter will always merge with a purple scarf, a green dress … a colored smile! 🙂
In this winter, I proposed myself to make my outfits cheerful like me. The smile makes you feel younger and gives you good mood and the colors makes the eyes and the soul happy.
In my winter adventure in the heart of the mountains, when I discovered some of the most special places in Switzerland, where I met sun and green grass, but also snow and rain, I wore warm outfits, adapted for outdoors weather, with color accents.
In Interlaken, we discovered superior Swiss elegance, and the walk along the shore of Lake Thun offers us fairy images with waterfall that ranged from tens of meters of rocky cliffs, snow-covered mountain landscapes, and hills full of green grass, traditional villages wooden houses, colorful craft and unforgettable memories.
My outfit:
Bershka beige sweater
Atmosphere green trousers
Bershka turquoise jacket
Guess bag
Now it's time to visit the beautiful town of Lauterbrunnen. The waterfall that descends vigorously to the ground, from 300 m altitude, was hidden. The snow and the fog destroyed our plans, but before we left Interlaken, we departed from the road to Luzern and visited it again. It's a place that you should not miss! The colorful houses complete the magical setting of this impressive Staubbach waterfall.
On the way to the fabulous Luzern, which by the way, I am deeply in love, We made a short stop at Hotel Villa Honegg, famous for its location above the clouds, the infinity pool overlooking the high mountains that surround the green lake in the city, but also for the 5 ***** services.
On this long day, full of new discoveries, I wore:
Green shirt from Reserved
Green necklace from Ottoman Hands
Leather pants from H&M
Artificial fur coat from New Look
Furla Bag from epantofi.ro
For a one-day visit to the famous Sankt Moritz, where luxury landscapes and shops leave you speechless, I wore:
New Look Artificial fur coat
Gray blouse from Only
Gray pants from Bershka
Yellow cap and purple scarf, purchased from a store in Mayrhofen Austria.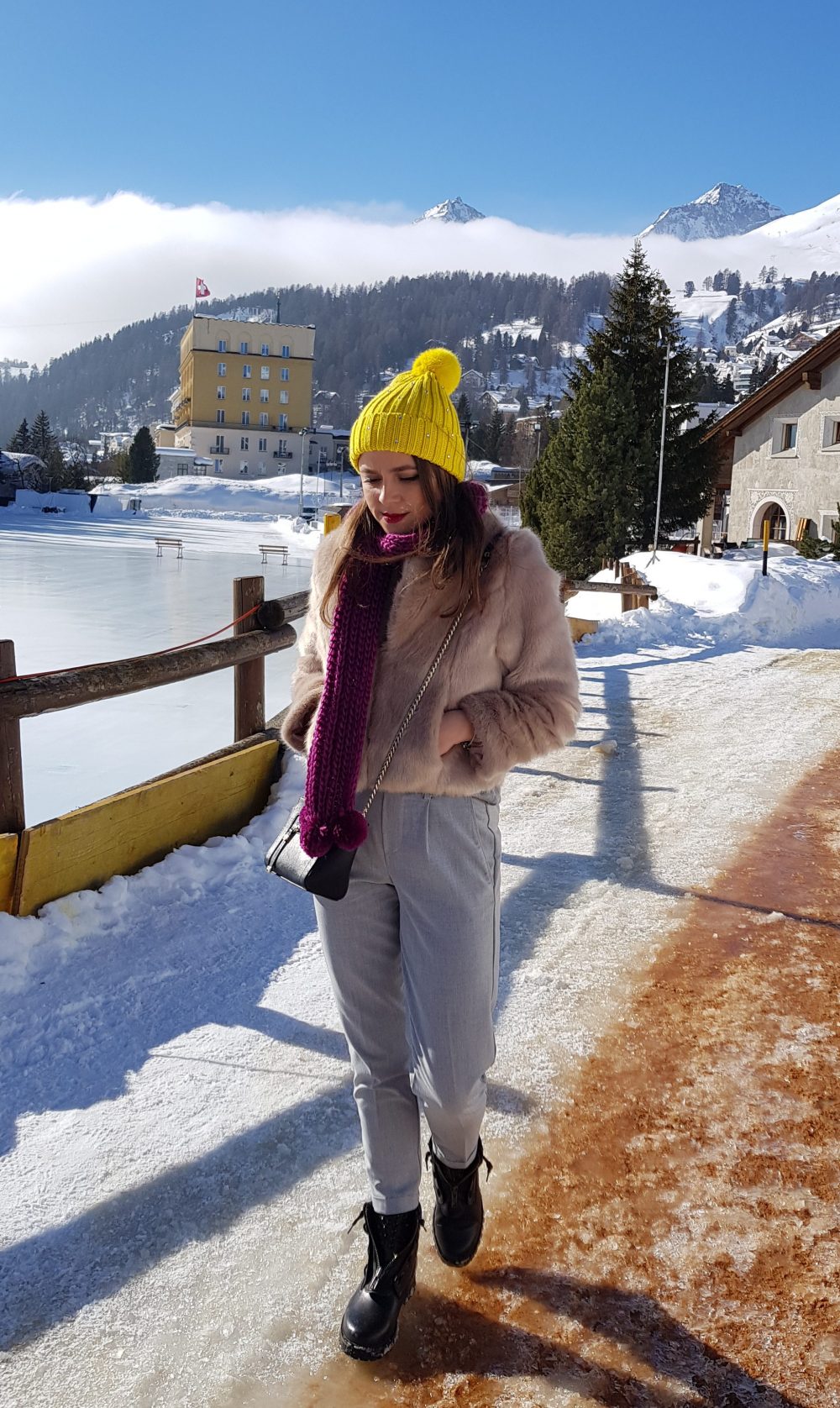 With sadness in the heart, but with memories for a life, we got home, the last stop being in the amazing Munich. Creepy weather has given me a bit of a headache, but the long-awaited H&M scarf saved me from the wind that came to my bones.
My outfit:
Coat – Old collection H&M
Red scarf H&M
H & M leather pants
Red blouse Villa
Love,
A.C.
Comments