Welcome to Sankt Moritzzzz! Stores with luxury clothes and watches, famous brands, extravagant hotels, exclusive venues, quiet streets, modern buildings, hundreds of kilometers of slopes, breathless landscapes that … elegance and class in a pure white background. Here is the heaven of winter sports lovers and the land of luxury.
Sankt Moritz it's on my bucket list for long time but the desire of getting there increased in the December excursion, when we were less than 200 km far from this place, but because of the lack of time, we delayed the moment of meeting … and it was a good idea because this moment was perfect.
We left Zillertal to Sankt Moritz, the pearl of the Swiss Alps. We traveled about 250 km through the mountains. Tall and imposing, sober and dizzy, white in some places but also completely covered by the white blanket, perfectly clean roads, picturesque landscapes, images I have never seen before. Impressive! It is so hard to describe in words the feelings of joy that have accompanied me in the adventure of my life, through mountain landscapes that have been stripped of fairy tales.
Sankt Moritz, a city in Switzerland that hosted the Winter Olympics, well-known for the perfect gauntlets, perfect destination for the rich people of the world.
One of the most popular holiday destinations in Europe, the 350 km of slopes, make it so popular with winter sports lovers. People say that it is one of the most beautiful places in Switzerland, and I can not deny it, even if I expect to find something else. I can not say exactly what, but the first date with Sankt Moritz was somewhat surprising. Maybe I wanted to discover more Swiss-specific buildings, more local tradition, but all those modern hotels overwhelmed all the ideas I left home. Even though everything I read on the internet before starting the trip indicates and clearly explains what I found here, I was hoping to find out much more traditional Swiss elements.
Sankt Moritz is divided into 2 areas: Sankt Moritz Dorf with exclusive shops and Sankt Moritz Bad, the SPA center.
Arrived at this time of the year, Lake Sankt Moritz was completely frozen, being turned into a skating rink. It is said that here, 365 days a year it is sun. When we arrived, it was a dazzling sun and a terrible wind that made our walk a little difficult.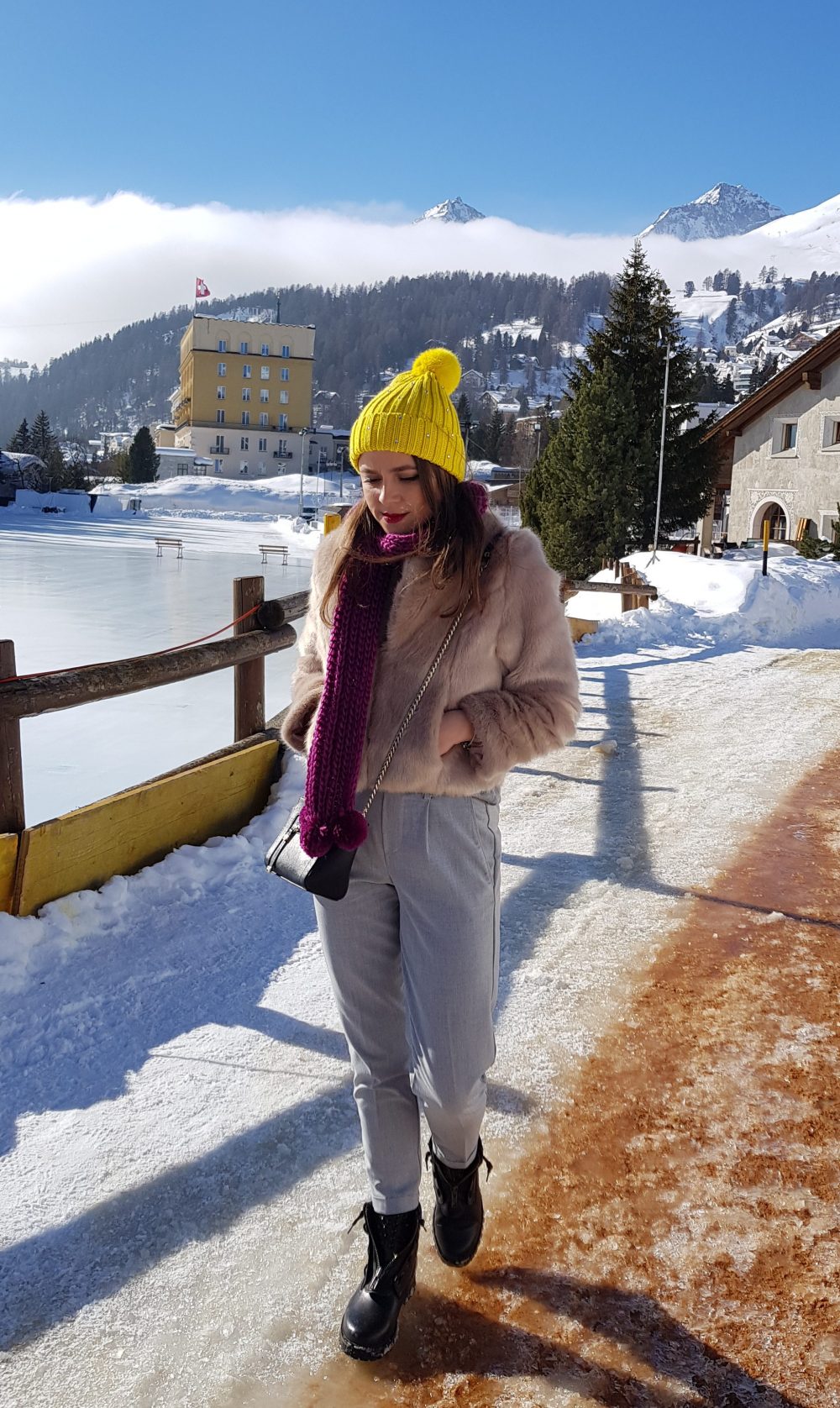 Attractions in the area:
Ski slopes / snowboard:
350 km of slopes offering both beginner and advanced options.
Maximum altitude 3303 m
Ski resorts: Corviglia, which hosts world cup races and world championships, Corvatsch where the most experienced descend from the highest altitude (3303 m), Diavolezza with breathtaking scenery and slopes for difficult descents, Zuox, the ideal place for families.
Other winter / summer sports
For those who want to try other winter sports, the list of options is long: cross-country skiing, sledge, bob, skating, curling, hiking. Mountain trails can be explored during the winter, but especially during the summer. Mountain biking enthusiasts can explore the area on bicycles, where special routes are arranged for them.
Of course, in this area there are many SPA & Wellness centers, where, after a whole day of skiing, the moments spent here are a real blessing.
Glacier Express Train
The train links Sankt Moritz to Zermatt. The trip lasts 7:30 h and the landscapes are the most beautiful in Switzerland. The train passes through bridges, through tunnels, even up to 2033 m altitude.
Prices and other details can be found here: Glacier Express.
Heidi's house
Heidi's house, the place where the famous Swiss story was shot, is a short distance from Sankt Moritz, located above the city. Heidi Chalet is one of the main tourist attractions in the area.
Via Serlas
The main thoroughfare of the city, the place where you can find the most exquisite shops and hotels.
More information about Sankt Moritz, here: Sankt Moritz
Love,
A.C.
Comments